Download Dark Echo free on android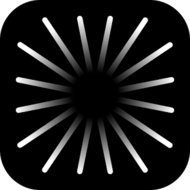 Dark Echo - being in the dark, you are obliged to apply the rendered sound to pave their way through threats perfect located around the place.
Soluble sounds you will be displayed on the barriers, revealing the form located around the grille Dark Echo. It will be quite negligible delay, before a single method than your knowledge of the lattice will draw scary angry, devouring and sounds, and soul.
Updated to version 1.3.2!
Additional Information from Google Play: