Download Glass Smash Saga free on android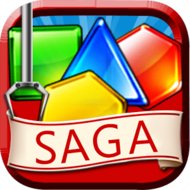 Glass Smash Saga - various colorful glass blocks fall over! They are in different weight.
A log placed on the bottom. You are obliged to order the state of falling glass blocks and hold the balance beam. As if to work, if a log bends? Eliminate the blocks! As soon as 3 similar color blocks together, they will be eliminated. You have 10 lives together Glass Smash Saga, but if you lose all of them, the fun will be over.
Additional Information from Google Play: