According to rumors, the Snapdragon processor 823 may be a direct successor of the current flagship Snapdragon 820. However, the 823-series will be different not only increased clock speed. It is noteworthy that Qualcomm plans to first use the chip to create the 10-nm process technology. According to the source, the Snapdragon 823 will debut in the Samsung Galaxy Note 6, LG G Flex 3 and an unknown device Sony Xperia.
The latest leaks chip appears under the name SM8996PRO. In it will be installed four 64-bit kernel Kryo. The clock frequency is 2.6 GHz, for the schedule will traditionally meet the Adreno chip with an operating frequency of 720 MHz. For comparison, the Snapdragon 820 clocked at up to 2.2 GHz and Adreno 530 accelerates to 624 MHz. The chip supports up to 8 GB of RAM and LPDDR4 camera with a resolution up to 25 megapixels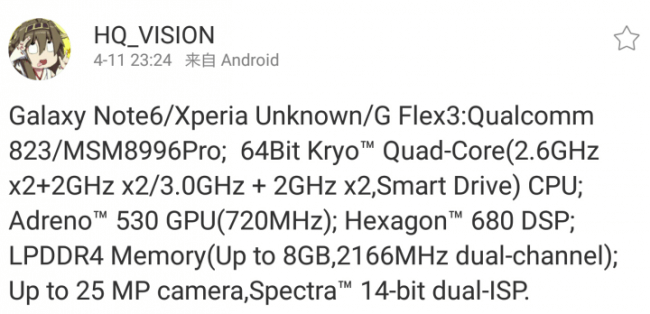 Unfortunately, the exact release date of the chip is not disclosed. As suggested by the sources, the announcement should be expected at the end of 2016, and the appearance of the first mobile devices - in the first quarter of 2017. At the same time the announcement of Samsung Galaxy Note 6 is expected in July.