The popular utility for testing the performance of smartphones AnTuTu conducted a new updated rating for the past month. It can be noted that with the release of the flagman Samsung Galaxy S9 + and S9, the first two places in the rating have changed, and they took the novelties of the South Korean brand. The third and fourth place went down the former leaders of Huawei Mate 10 and Mate 10 Pro, and the fifth began to occupy Honor V10.
Next in descending order is a couple of smartphones of the Chinese brand OnePlus 5 and 5T, a pair of gadgets from the Chinese company ZTE Nubia Z17s and Nubia Z17. Closed the top ten Chinese Xiaomi Mi 6.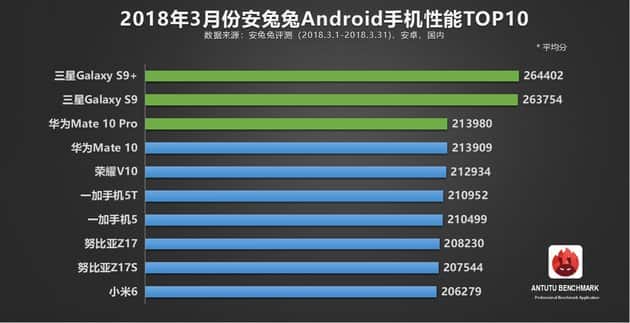 Note that the places in the rating were determined by the presence of a more powerful processor, so the first two gadgets work on the flagship Snapdragon 845, then the Huawei three-way smartphone uses the less efficient Kirin 970, and the next five uses Snapdragon 835.